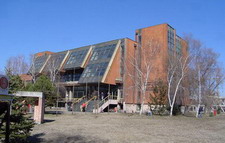 Conference Topics
Building Structures and Materials
Theoretical and Applied Mechanics
Experimental and Theoretical Structure Analysis
Research, Design and Construction of Transportation Infrastructure and Geotechnical Structures
Research, Design and Construction of Hydrotechnical Structures
Architecture and Urban Design and Planning
Sustainable Development and Energy Efficiency
Organization and Management in Civil Engineering
Evaluation, Repair and Maintenance of the Civil Engineering Structures
Manuscript Preparation and Acceptance
The Conference Board shall select incoming manuscripts for the proceedings according to their contents, quality and relevance. Manuscript must comply strictly with the attached guidelines and be submitted electronically in MS Word format (via email or on a CD, the maximum size of the document being 5MB).
Poziv za sponzorstvo-donatorstvo
Ugovor o donatorstvu
Conference Aims
The success of the 2014 Conference in honor of the Faculty of Civil Engineering Subotica 40th anniversary was an inspiration for a new International Conference. Over past 20 years Serbian economy, especially in civil engineering domain, has fallen behind that of the developed countries. Thus, there is a growing need to sum up the existing civil engineering accomplishments. This shall concern an array of results achieved with respect to planning, contemporary theory and numerical treatment application, analysis and design methodologies, practical civil engineering, and technical regulations and standards. The Conference organizers hope for civil engineering experts and professionals as well as others interested in the topic, such as architects, town planners, surveying, geological, mechanical and electrical engineers, to come together to exchange their scientific and other important information. The Conference should point out to the main scientific and professional developmental directions that would meet conditions and needs at this stage of building our country. Moreover, the Conference shall be an opportunity to discuss current regulations and standards and whether these should be harmonized with the latest Euro Codes applied in the EU member states. The Conference is expected to bring together engineering researchers and experts, respectable institutions and enterprise representatives, all of whom may be interested in the exchange of scientific and professional information and experience. The Conference shall be an opportunity to actualize cooperation with neighbor Universities: Timisoara, Brasov, Osijek and Slavonski Brod.
Important Dates/Deadlines
| | |
| --- | --- |
| Abstract Submission: | 29th January 2017 |
| Paper Submission: | 10th March 2017 |
| Paper Review: | 20th March 2017 |
| Author Revise: | 25th March 2017 |
| Final Acceptance Of Papers: | 30th March 2017 |
| Attendance Registration: | till 15th April 2017 |
Sponsors
Ministry of Education, Science and Technology
Provincial Secretariat of Science and Technology
City of Subotica
University of Novi Sad
Engineering Chamber of Serbia
Media Coverage
Radio Television of Vojvodina
Organization
Faculty Of Civil Engineering Subotica Kozaracka 2a, 24000 Subotica University of Novi Sad
Contact Persons
• Aleksandar Landović, Ph.D.
Phone: +381 24 554 300 Fax: +381 24 554 580 E-mail: konferencija@gf.uns.ac.rs Website: www.gf.uns.ac.rs/~konferencija